Philippe Bozon's conferences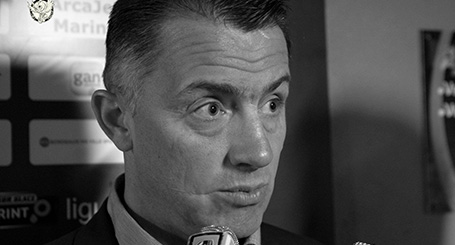 As the first French-born ice hockey player to appear in the National Hockey League, Philippe Bozon is the epitome of tenacity and motivation.
With his leadership and resolve to take the team forward, Philippe was always a key player for his coaches and team mates.
Entirely selfless in his attitude and always putting the team's interests first – even when injured, he never once hesitated to return to the arena – Philippe Bozon has invariably remained in the hearts of the fans of the clubs that helped him hone his talent.
Philippe finally hung up his skates in 2006, with close to 650 matches under his belt at professional level, including 189 with the French national team. But there was no leaving the world of ice hockey: between 2004 and 2009, Philippe was Director of Training and the Junior Movement at the Genève-Servette Hockey Club, before embarking on a coaching career. First in Switzerland, working with Lugano (a club he had played for between 1999 and 2001) and then with Sierre. The 2014-2015 season saw him heading the French Gaymo d'Épinal team, which he took to the final of the Magnus Cup before differences of opinion led him to seek a new challenge. He has been coaching the Bordeaux Boxers since March 2016.
Learn from the Example of a Leader
Find out more about Philippe Bozon's leadership skills through a UnoMe workshop. With his motivation and team spirit, Philippe has not only made a name for himself in a nation where ice hockey is far from a prevalent sport, but he has also paved the way for his fellow countrymen to join the best league in the world.
Prepare your executives for leadership by example, with advice from Swiss sporting legend Philippe Bozon.
Conference Themes
Individual and collective motivation
Leadership and Management
Achievements
Four times competitor at the Olympic Games: 1988 Calgary / 1992 Albertville – Quarter Finalist / 1994 Nagano / 2002 Salt Lake City.
12 Senior World Championships.
Three times French Champion, with Megève in 1984, Mont-Blanc in 1988 and Grenoble in 1991.
Two times Swiss National League B Champion with La Chaux-de-Fonds in 1996 and Genève-Servette in 2002.
Three times German Champion with Adler Mannheim in 1997, 1998 and 1999.
Most promising French player at the age of 17 for the 83-84 season.
Best French player for the 89-90 season.
Most Valuable Player in the German Championship and selected for the 96-97 All Star Team.
Inducted into the International Ice Hockey Federation Hall of Fame in 2008.
The Rubik's Cube solver program calculates the rotations to sove the unsolvable cube.