Luc Alphand's conferences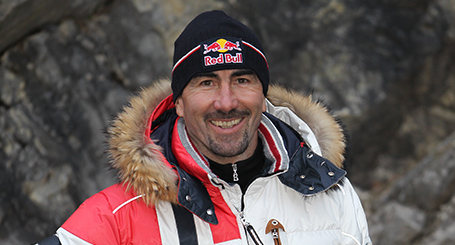 Having been born in the snow, it was just natural that my first lasting passion should be skiing. I loved the sport and I finally decided to enter competitions. Despite my late start, I managed to find myself winning medals and being among the best. It was a real pleasure to find myself at such a level. But after 15 years of intense competition, I finally packed my skis away for the last time.
Then I was invited to try auto-racing. This awakened the 'speed' bug in me and I rapidly became addicted to the thrills and the races.
To get started in the discipline, I created a structure – Team Luc Alphand Aventures (TAA). This enabled me to finance my first racing car, the training and the races. I drove for Renault for 2 seasons and then spent 2 further years with BMW XRaid. Finally, I was an official driver for Mitsubishi for some 6 years, before the company withdrew from competition.
A serious motocross accident ended my sporting career, but I remain in contact as a consultant. I remain in the world of motor sport with consultancies for France Television for the Dakar Rally, but I am also a consultant for the major alpine skiing events. I returned to the motor sports world as a consultant for the Silkway Rally.
Luc Alphand holds his conferences in Romandy and for any company which uses English as the corporate language.
Learn from a Top-level Athlete Converted into Consultancy
Take advantage of Luc Alphond's motivation to change your view of the world in which we live with a UnoMe organised conference.
As a converted top-flight athlete, Luc Alphand knows better than most how to talk about the necessary energy to go that extra mile, to develop oneself and to be one of those who are capable of staying on course.
Get ready to make those essential changes with your revitalised motivation and your leadership learned from Luc Alphand.
Such are the techniques that you can acquire with a UnoMe conference.
Conference Themes
Individual and Collective Motivation
Leadership and Management
Achievements
Skiing
First in overall classification in 1997 World Cup
First three times in the World Cup overall downhill classification
First once in the World Cup overall super G classification
Bronze medal in World Championships in Sierra Nevada 1996
12 victories in World Cup events
9 times French champion
Auto-racing
2009 Season
Winner of the European Le Mans Series (ELMS) in the GT1 category with the Team Luc Alphond Aventure
2008 Season
Winner of the European Le Mans Series (ELMS) in the GT1 category with the Team Luc Alphond Aventure
Winner of the 2008 Rallye Transiberico
2007 Season
2th, Dakar Rally (Africa)
1st, Rallye Por Las Pampas (Argentina)
2006 Season
1st, Dakar Rally (Africa)
1st, Rallye Por Las Pampas (Argentina)
1st, Dubai Rally (United Arab Emirates)
2005 Season
1st, Rallye de Tunisie (Tunisia)
2th, Dakar Rally (Africa)