Justin Murisier's conferences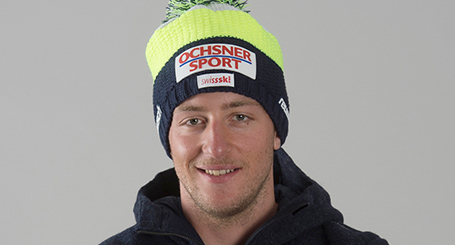 Justin Murisier started on the slopes of Bruson at an early age with his grandmother.
A native of the Valais, Justin is resilience personified, as demonstrated by his spectacular rise between 2010 and 2011 where, to everyone's surprise he finished in 8th position having not even been in the classification the previous season!
This meant he was qualified for the World Championships in Garmisch the same year. He finished 9th with the fastest time in the second leg.
There followed two consecutive victories, but two seasons out with injuries put a stop to his rise.
Not someone who gives up easily, he came back and proved that resilience and determination by winning further medals and remaining in the top 15 in all competitions.
Learn from a really Resilient and Determined Athlete!
UnoMe provides the opportunity of learning from the resilience of this young Valaisan. You will be captivated by his seductive approach and the sheer energy that he brings to his conferences.
What's important for you is the need to galvanise the energy required to overcome the daily challenges and to become really effective!Sign up for a UnoMe conference and benefit from the zest and resilience of Justin Murisier!
Conference Themes
Individual and Collective Motivation
Leadership and Management
Achievements
2016/2017 Season
4th, World Cup in Santa Caterina (ITA) – Super Combined
7th, World Cup in Sölden (AUT) – Giant Slalom
7th, World Cup in Wengen (SUI) – Super Combined
8th, World Cup in Garmisch (GER) – Giant Slalom
10th, World Cup in Alta Badia (ITA) – Giant Slalom
12th, World Cup in Kranjska Gora (SLO) – Giant Slalom
13th, World Cup in Aspen (USA) – Giant Slalom
2015/16 Season
12th, FIS Overall classification for Giant Slalom
1st, Giant Slalom Swiss Championships
3th, Slalom Swiss Championships
9th, Giant Slalom St. Moritz
10th, Giant Slalom Kranjska Gora 1
10th, Giant Slalom Kranjska Gora 2
11th, Giant Slalom Naeba
11th, Giant Slalom Val d'Isère
14th, Super Combined Chamonix
14th, Giant Slalom Alta Badia
15th, Giant Slalom Soelden
2014 Season
12th, Giant Slalom Soelden
16th, Super Combined Kitzbühel
2013 Season
9th, Super Combined Kitzbühel
2010/11 Season
8th, Slalom Val d'Isère
18th, Slalom Kranjska Gora
21th, Giant Slalom Kranjska Gora
13th, Giant Slalom World Cup in Garmisch
Silver medal Slalom Junior World Cup Crans-Montana
Silver medal Super Combined Junior World Cup Crans-Montana
Bronze medal Super G Junior World Cup Crans-Montana