Daniel Yule's Conferences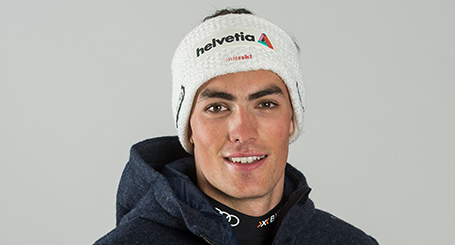 From a very early age Daniel Yule exhibited the signs of someone with a very determined character. After a few seasons skiing with the family and with the Champex‐Ferret ski-club, his first ever ski race – on his 5th, birthday – (the Erika Hess Open at La Fouly) gave him the taste! He would go on to join Swiss-Ski and start registering his first points in the European Cup. He started his career in the World Cup with the legendary slalom in Kitzbühel. So, a promising season and, as result, promotion into the WC3 Futures group with as trainer, Didier Plaschy. Although the next season was devoid of any startling results it was, nevertheless, considered a success, with a number of World Cup races under his belt; his first place in the top 10 in the European Cup; and a number of victories in FIS competitions. As a result he was promoted to the WC3 group and found himself with his former trainer, Steve Locher. In the 2013-14 season, Daniel had some excellent results with his first World Cup points in Bormio; 7th place in the Kitzbühel slalom; participation in the Winter Olympics in Sochi; and finished at the top of the classification for slalom in the European Cup.
As a leader in the national team, Daniel attacked the 2016/2017 season with the aim of maintaining the team in the premier group in the World Cup slalom (top 15) and, if possible, to obtain a medal in the World Championships in St. Moritz.
Understand the Mental Preparation of a High-level Athlete
With UnoMe you can take advantage of Daniel Yule's experience to acquire a better understanding of the mentality of a winner. In order to improve your own motivation and also to drive your teams with, the necessary leadership qualities. Soak up the energy of this athlete in order to excel in your company!
Daniel Yule, as a top-level athlete has understood that training his motivation and constantly looking to the future are essential elements in completing his own physical capabilities en route to success.
It is this state of mind that UnoMe can enable you to acquire.
Conference Themes
Individual and Collective Motivation
Leadership and Management
Achievements
2016/2017 Season
11th, Slalom – FIS World Cup – Val d'Isère (FRA)
6th, Slalom – FIS World Cup – Madonna di Campiglio (ITA)
4th, Slalom – FIS World Cup – Zagreb (CRO)
8th, Slalom – FIS World Cup – Adelboden (SUI)
5th, Slalom – FIS World Cup – Kitzbuhel (AUT)
15th, Slalom – FIS World Cup – Schladming (AUT)
15th, Slalom – FIS World Cup – Aspen (USA)
2015 Season
6th, Slalom – World Cup – Sta Caterina (ITA)
9th, Slalom – World Cup – Val d'Isère (FRA)
9th, Slalom – World Cup – Naeba (JPN)
11th, Slalom – World Cup – Madonna Campiglio (ITA)
11th, Slalom – World Cup – St. Moritz (SUI)
13th, Slalom – World Cup – Adelboden (SUI)
13th, Slalom – World Cup – Schladming (AUT)
2014 Season
10th, Slalom – World Cup – Levi (FIN)
10th, Slalom – World Cup – Zagreb (CRO)
10th, Slalom – World Cup – Schladming (AUT)
11th, Slalom – World Cup – Kranjska Gora (CRO)
14th, Slalom – World Cup – Are (SWE)
Qualification for Winter Olympics in Sochi (RUS)
2013 Season
7th, Slalom – World Cup – Kitzbuehel (AUT)
17th, Slalom – World Cup – Bormio (ITA)
1st, Slalom – European Cup – Vemdalen (SWE)
2th, Slalom – European Cup – Soldeu (AND)
2th, Slalom – European Cup – Obereggen (ITA)
Qualification for the World Championships in Beaver Creek