Charlotte Chable's conferences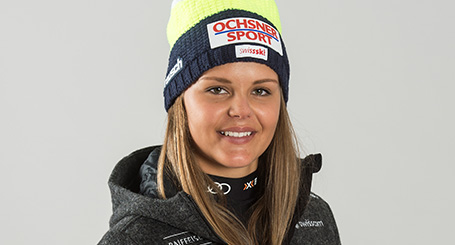 I started skiing at a very early age and joined the CNP (Centre National de Performance pour les sports de neige – the National Winter Sports Performance Centre) to improve significantly my performance in a sport that, every day, helps me understand my motivation even more; and the crucial importance of the mental aspects.
Having been accepted into the Swiss Skiing Federation — Swiss Ski — I am continuing my improvement and thoroughly enjoying doing what I love.
Every day I feel I am closer to my dream!
Learn from an Athlete Making a Name for Herself in the Skiing World!
UnoMe offers a stimulating motivation conference given by Charlotte Chable. This young lady will thrill you with her dynamism and her ability to go that extra mile to achieve her objectives!
Take advantage of real motivation boost with a conference run by Charlotte Chable and presented by UnoMe!
Conference Themes
Individual and Collective Motivation
Leadership and Management
Achievements
2015/2016 Season:
9th, World Championships Aspen (USA) – Slalom
16th, World Championships Flachau (AUT) – Slalom
25th, World Championships Cup Crans-Montana (SUI) – Slalom
25th, World Championships Jasna (SVK) – Slalom
27th, World Championships in Santa Caterina (ITA) – Slalom
2014/2015 Season:
11th, World Championships Maribor (SLO) – Slalom
15th, World Championships Beaver Creek/Vail (USA) – Slalom
3th, Europa Cup Hemsedal (NOR) – Slalom
4th, Europa Cup Hemsedal (NOR) – Slalom
5th, Europa Cup San Candido (ITA) – Slalom
11th, European Championships Zinal (SUI) – Giant Slalom
12th, European championships Zell am See (AUT) – Giant Slalom
4th, Junior World Championships in Hafjell (NOR) – Slalom